Fact Checked
Aside from food-borne illnesses or those medical conditions that are caused by bacterial, parasitic and viral strains that are found in food, having a food handling certificate also helps homemakers and business owners prevent the transmission of other types of communicable diseases such as common colds. This is very important especially in countries like Canada in which the likelihood of acquiring common colds is more likely because of the weather which can weaken the immune system. Here are some of the other reasons why it is important to acquire a food handling certificate in order to avoid Rhinovirus colds.
Rhinovirus Infections are Common in Canada
Acording to the data that was released by the Public Health Agency of Canada, 50% of the cases of colds, asthma and other chronic pulmonary diseases in the country are caused by Rhinovirus infections. Considering that many of these diseases affect millions of Canadians each year, it means that Rhinovirus transmission is also very common in the country.
Rhinovirus Infections Have Caused Outbreaks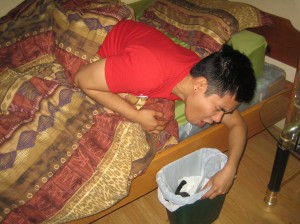 Since the symptoms of common colds that are caused by this particular pathogen is very common and is often similar to minor colds, many are often unaware that they already have the particular pathogen and that they are spreading the infection to everybody else. This is the reason why it is not really a surprise that Rhinovirus infection outbreaks happen in certain provinces even under the strict surveillance of public health officials.
According to a study that was published in the United States National Library of Medicine and National Institutes of Health journal, Rhinovirus is the main cause of 59% of the respiratory infection cases that were reported from July to December 2009. These cases occurred in long-term care facilities in Ontario which prompted public health officials to declare an outbreak in certain facilities and cities.
Acquiring a Food Handling Certificate
Before a food handling certificate is handed out to trainees, their knowledge regarding communicable diseases such as colds are assessed to ensure that they know how to manage and prevent these medical conditions. The different pathogens that cause these medical conditions are also taught to students including facts about the Rhinovirus strain. Considering that even long-term care facilities who have well-trained staff can suffer from colds that are caused by the Rhinovirus, it is important for homemakers and business owners to prevent Rhinovirus infections inside their homes or their business establishments.